Ed & Carolyn Tutton
Missionaries With Teaching All Nations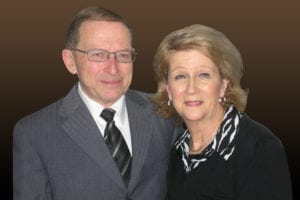 Both Ed and Carolyn grew up in Christian homes. Carolyn was saved when she was eight years old in Ft. Worth, Texas, and Ed was saved at the age of fourteen in Buffalo, New York.  They met at Bob Jones University and were married soon after graduation in 1967.
     They planned to go to the mission field, but God had other plans for them.  Their mission board requested that they wait a year before starting their deputation.  During that year, the pastor of their home church asked them to start a Christian school.  This began a thirty-year adventure, working in the area of Christian education. Carolyn became a teacher, supervisor, and principal while Ed established and directed both Christian schools and Bible colleges in America.
     Their calling to become missionaries was realized in 2004 when they were asked to join Team China, a missions team sent from First Baptist Church of Hammond, Indiana. Their assignment was to win souls and write the curriculum for English training schools.  On their thirty-eighth wedding anniversary, they left to serve as missionaries in Jilin, China, where they saw hundreds saved and many baptized and added to house churches.
     Three years later, they traveled to Kumasi, Ghana, to establish the Hyles-Anderson College of West Africa.  It was in Ghana, Africa, working with Adam Ogle and his family, that they realized that the great need in world missions was to close the gap between world evangelism and global church planting by training a larger number of men in their own communities and cultures to go to the "next towns" and start mission works.  From this need, Ed and Adam got a vision to produce the Teaching All Nations program which is now being used to train men around the world, using the biblical model introduced by Christ in the New Testament.  This FREE three-to-four-year program is a step-by-step Bible college curriculum organized into 150 lessons, using the question-and-answer method to find answers in the Word of God.
     As pastors in America became familiar with TAN, they asked for a similar program to be made available to teach their own people.  Due to their continued requests, the Teaching Our People Bible program has been incorporated into the overall TAN program while using the same format.  The same concepts which have been used to strengthen the spiritual lives of people in foreign countries are now available to be used in our churches in America.
     In their fifty-second year of marriage, Ed and Carolyn are still serving the Lord by providing Bible-training materials to missionaries (TAN) and to pastors in America (TOP).